< alle blogberichten / Tomorrowland, a land of magical OC stories
01.09.2019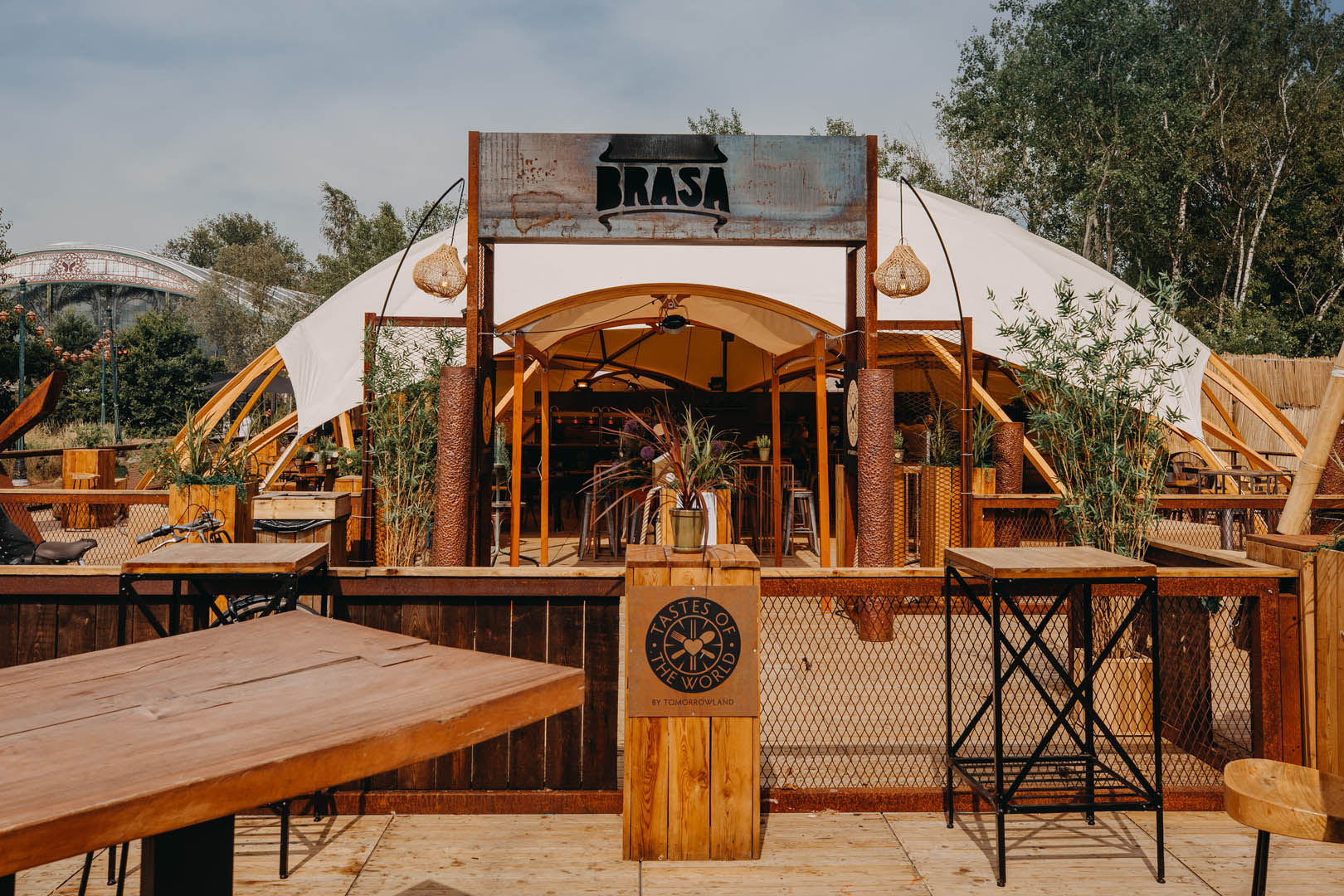 Tomorrowland, a land of magical OC stories
July stands for summer, sun, festivals, enjoying and very hard work (in our sector, anyway), … and also Tomorrowland. Two weekends a year, the 'We Are One' – atmosphere grows and people of many different nationalities gather at the famous festival site 'De Schorre' at Boom.
#TML has been working for 15 years now on their 'Book of Wisdom', and for 6 of those, we have helped creating the stage for a few chapters of that book.
In 2019, these read as follows…
Zaventem
The 'People of Tomorrow' arrive from far and wide and in big numbers at Zaventem airport. TML is counting on us to welcome them in the ultimate fairytale-like setting. We combine an Ivory-coloured Organic Stretch tent with an Ivory-coloured Organic Silhouette tent, in which we install wooden rustic floors and mood lighting. That way, we can create a warm welcome, together with our partner Total Concept.
BRASA STAGE
Exclusive BBQ restaurant (reservation only) in partnership with De Laet & Van Haver, in which the Organic Wooden Flat Dome and 3 Organic Bamboo Tipis create the ideal atmosphere for you to enjoy the tastes of the world.
LEAF STAGE (JBL)
The Leaf Stage Is a floating oasis on water, surrounded by fire breathing fish, which will let you daydream from the moment you enter the place. Walk along the floating foot path and enjoy the DJ's beats under the Organic Wooden Flat Dome. At this location, the DJ is hidden underneath the 4 iconic feet of the Organic Bamboo Tipi. The VIP part of our partner JBL is covered with a beige, custom-made Organic Stretch tent.
Both on the 'Brasa Stage' and the 'Leaf Stage', we decorate the tents together with our partners @Liberty Vintage and @Let There Be Light. At both locations, we aim for the robust, industrial look, mixing rough timber, earth colours and a vintage 'touch'.
ORGANIC STRETCH EVERYWHERE
At several locations, we erected an 'Organic Stretch Roof'. We erected, for example, a Stretch tent at the VIP Artist Backstage, immediately behind the Mainstage. The VIP sections of the Versuz Stage and the Garden Of Madness and a few bathroom sections were also covered with an atmospheric and diverse range of Organic Stretch tents.
DREAMVILLE
At Dreamville's Chill Out zone (located at De Klinckaert), a substantial area is covered with a mixture of Organic Stretch tents.
At the Brew district, and as ordered by AB Inbev, the shower and bathroom areas are also covered with Organic Stretch tents on trusses.